Here's another great rainy day project for you and your daughters. Have them pick out some ribbon out of your stash, you know you have one. If you're a crafter you probably have all this on hand anyway. So lets have fun with it!
For this you will need: ribbon, thread, sewing needle, elastic and about 10 minutes to burn. Not that you need instructions but just in case.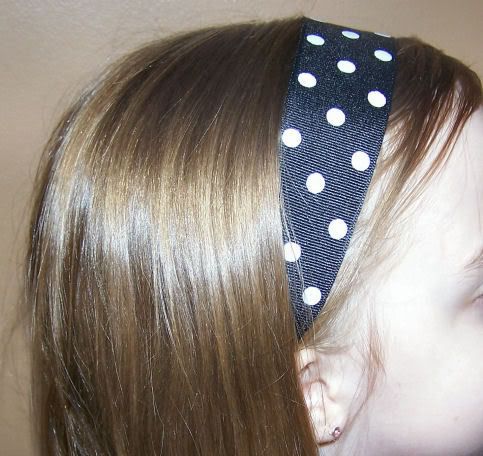 First step is to see how big of a headband you need. Take the ribbon and place it behind one ear. Go over the top of the child's head and behind the other ear. Allow yourself a little room (about a half an inch). This extra room is so you can fold under the raw edges. For wide ribbon, like the one we show here, you may have to fold the sides in to a point. Place the ribbon on the cihld's head again and hold the elastic to the ribbon (folded raw edge in) with your fingers. You want the elastic to not be too tight but not slack. If it doens't hace any tension it won't stay on. A little is all that is needed. Cut the elastic to length.
Now onto sewing. It's easy to hand sew this. Fold one side of the ribbon under place one end of the elastic on and hand stitch it in place. Repeat for the other side. The top picture shows the under side so you can see how this is easily done. Basically follow the picture. It isn't a hard craft. These are so fast that you can whip one up to match any of your daughter's outfits. Great idea for the last bit of a roll or larger scraps.