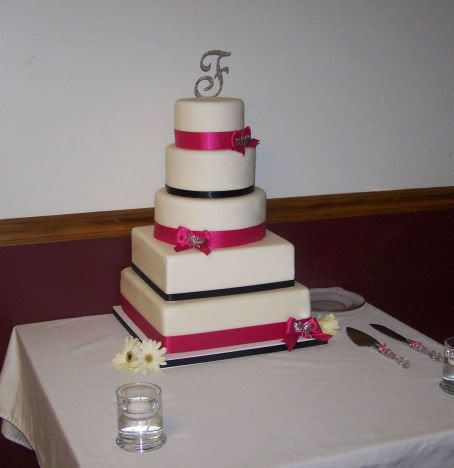 Happy wedding post!
I got to make my very first wedding cake. This wedding cake was huge. The ribbon is satin and the dragonflies (in the middle of the bows) are pins. The bride loved it! I was so happy that she was pleased. :) You want to make your Sister-In-Law happy!
We gave this to her as their wedding gift. Well, that and we helped with all the decorating, invitation and centerpieces. When your only sibling gets married, you go all out! LaRisa was crating her little butch fingers away! lol
The monogram topper was a perfect fit.
The centerpieces were interesting. They are submerged gerbera dasies. In case you have never tried to sink a daisy let me just tell you, it's a challenge. They like to float. We used a little wire though each stem and added a fishing weight (hidden by the rocks in the bottom of each vase) to submerge each daisy.
I have missed blogging. I can't wait to get back in the swing of crafting. Does anyone have any new projects that were fun to try?